The American Massachusetts State Curriculum
The American Massachusetts State Curriculum
The American Massachusetts State Curriculum is the most highly regarded of all study programmes in the United States. With close ties to prestigious universities such as Harvard and MIT, it stands above other curricula for its rigorous, comprehensive and forward-thinking design. It's also considered to be more demanding – and therefore rewarding – than the American Common Core Curriculum.
The Massachusetts approach is well-organised with clear expectations at each grade level. Assessments are efficiently organised to inform teachers and parents of the progress being made by students across all subjects.
Student-centric, the American Massachusetts State Curriculum focuses on interactive inquiry-based learning, physical education, and extra-curricular activities. This develops well-rounded students, teaches the mastery of specific skills, and builds confidence from an early age.
Students work towards the American High School Diploma, which is the standard qualification to gain entry into leading US universities and colleges. The diploma is also increasingly being recognised by other leading higher education institutes across the world.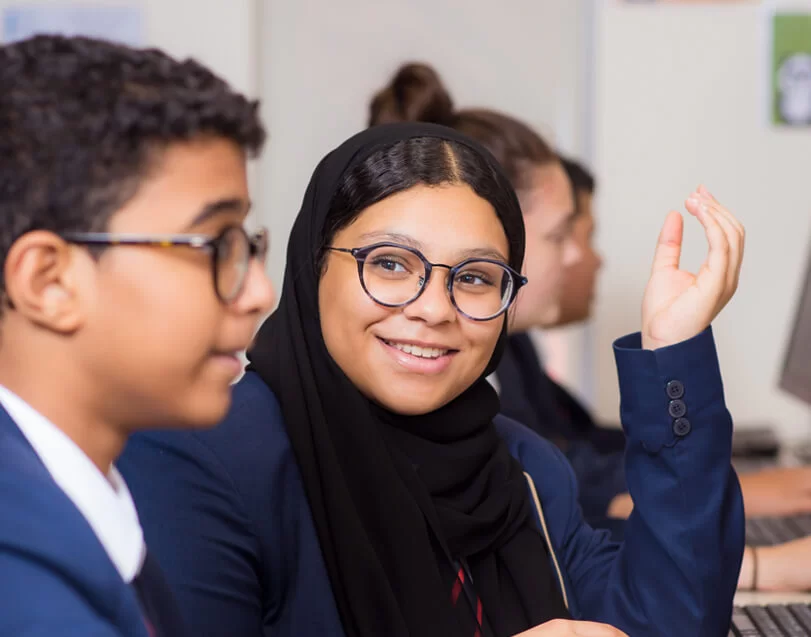 STUDENT COMPETENCY FRAMEWORK
Throughout their units of inquiry, students will focus on a concept from the Student Competency Framework. The themes of 'Respect', 'Integrity', 'Empathy', 'Resilience', 'Honesty', 'Care' and 'Tolerance' will be integrated into the framework which is designed to develop the relevant skills and qualities in students for them to become effective life-long learners, productive workers and global citizens who can make a positive contribution to the local, national and global communities.
MY IDENTITY
To enhance a deeper understanding, students will also link the concepts of the "My Identity" program within the Arabic, U.A.E Social Studies and Islamic Studies program, to the Units of Inquiry, fostering a deeper understanding of who they are in place and time. The themes of 'Arabic Language', 'Culture', 'History', 'Citizenship', 'Community' and 'Values' have been developed within the grade level outcomes.
DIGITAL LITERACY COMPUTER SCIENCE
The purpose of the Digital Literacy Computer Science (DLCS) curriculum is to develop the digital literacy and computer science (DLCS) knowledge, reasoning, and skills of students that are essential both to prepare students for success in the twenty-first century and to prepare and inspire them to pursue the innovative and creative careers of the future. The abilities to effectively use and create technology to solve complex problems are the new and essential literacy skills of the twenty-first century.

The DLCS standards complement our Massachusetts Curriculum Frameworks. The DLCS standards overlap in meaningful and substantive ways with standards from other academic disciplines and offer an opportunity for all students to better apply and learn digital literacy and computer science. Much of the knowledge, skills, and dispositions central to digital literacy and computer science, such as computational thinking, also apply to other subjects, including, but not limited to, science, technology and engineering and mathematics.
MINISTRY OF EDUCATION (MOE)
The teaching of Arabic subjects is based on the guidance and materials prescribed by the Ministry of Education. It keeps local and other native Arabic speaking and Muslim children familiar with their national identity and religion. In addition, our international students gain an understanding of the UAE's heritage which helps enhance mutual understanding, peaceful coexistence and cross-cultural harmony and tolerance.